Small Business Program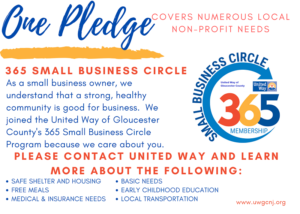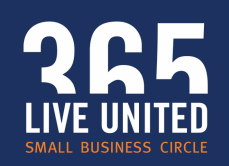 For only a dollar a day, or $365 a year, your business becomes a member of the LIVE UNITED 365 Small Business Circle. United Way of Gloucester County (UWGC) has created an easy, affordable, and effective way for companies with fewer than 35 employees to give back to their community. Being a 365 Small Business Circle member aligns your business with the strong LIVE UNITED brand, recognized as one of the Top 10 most recognizable nonprofit brands in the world. You will receive an exclusive LIVE UNITED 365 Small Business Circle decal to display and show your customers your commitment to the community, plus you'll receive many other member benefits. Use your Google account to sign up for this important program electronically!
Please download the most recent (March 11, 2021) Business Logo Sheet showing the logos of all of our 365 Small Business Circle members. To learn more about the 365 Small Business Circle, please contact Donna Murphy at 856-845-4303 ext. 18 or donnamurphy@uwgcnj.org
Riggs Creative Group is proud to support our Gloucester County neighbors in need by being a 365 Small Business Circle member, and by offering 10% off the cost of your creative services (up to $100 value) to all those who participate in the employee giving program. Especially during times of uncertainty, every contribution matters and the United Way ensures the funds you give go to solve pressing needs in our community.
Requests for 2021 Live United Mini-Grants are now being reviewed…
Applications for the 2021 Live United Mini-Grants have been submitted and are being reviewed. Mini-Grants awarded will be posted here in October 2021. Thank you for your submissions!


The investment made to UWGC by our 365 Small Business Circle Participants provides funding for a number of Mini-Grants of up to $1,500 each for programs and agencies to conduct life-changing work in Gloucester County. The following organizations received Mini-Grants for Year 2020:
Angels Community Outreach – provides fresh fruits and vegetable in weekly meal kits to make a well-rounded meal.
Booksmiles – books in Spanish featuring characters of diverse backgrounds for their Book Distribution Program.
Boys and Girls Club of Gloucester County – 60 sets of basic art and educational materials for individual students.
Clarifi – provide 10 one-on-one financial counseling sessions to low-to-moderate income clients in Gloucester County.
Emmanuel Cancer Foundation – gas station and grocery store gift cards for basic needs for families undergoing treatment.
Greater Woodbury Coop Ministry – fresh produce in weekly meal kits, especially during winter months, to make a well-rounded meal.
Newfield Terrace Community Action Organization – expanding after school and weekend class for technology to support their STEAM program.
Partners in Learning – safe and secure storage for additional COVID-19 related materials and supplies.
People for People – emergency funds for veterans for basic needs that can be deployed within hours.
South Jersey Dream Center – purchase of a commercial freezer to expand food distribution.
SJ Robotics – purchase of PPE and cleaning supplies to continue the technology assisted K-12 technology program
Shadow Equestrian – purchase individual helmets for riders that are SEI approved.
Shelter of Hope – keep the Shelter of Hope youth and staff protected and ensure the continuation of programs.




Shadow Equestrian, a recipient of UWGC's Micro- and Mini-Grants,
provides therapeutic riding instruction for special needs children at a low cost
through fundraising, lesson sponsorship, and donations.

Here is a PDF Infographic of the UWGC 2020 Mini-Grants.
Last Updated on: September 16th, 2021