Small Business Program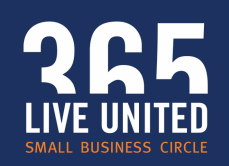 For only a dollar a day, or $365 a year, your business becomes a member of the LIVE UNITED 365 Small Business Circle. United Way of Gloucester County (UWGC) has created an easy, affordable, and effective way for companies with fewer than 35 employees to give back to their community. Being a 365 Small Business Circle member aligns your business with the strong LIVE UNITED brand, recognized as one of the Top 10 most recognizable nonprofit brands in the world. You will receive an exclusive LIVE UNITED 365 Small Business Circle decal to display and show your customers your commitment to the community, plus you'll receive many other member benefits. For more information, download this PDF which details how your business can become a member of our Small Business 365 Program today!
To learn more about the 365 Small Business Circle, please contact Donna Murphy at 856-845-4303 ext. 18 or donnamurphy@uwgcnj.org
The investment made to UWGC by our 365 Small Business Circle Participants provided funding in 2019 for the following
Mini-Grants:
Boys and Girls Clubs of Gloucester County – "Teach us How to Fish" program to train four staff members on the latest program innovations
Clarifi – financial counseling for low-to-moderate income residents
Emmanuel Cancer Foundation – gas station and supermarket gift card assistance program
Greater Woodbury Cooperative Ministries – assisting families in need with preparing for the Thanksgiving holiday
King's Things – to purchase two new refrigerators to increase quality and quantity of perishable items
People for People Foundation – assist six Veterans with grants of $250 to help with basic needs
SHADOW Equestrian – to provide thermal sleeveless vests for young special needs riders
Sketch Club Players – for educating youth in performing arts and to be a well-rounded member of society
South Jersey Dream Center – to obtain barcode scanners to help with the processing procedure for the food and clothing distribution efforts.
Last Updated on: September 9th, 2020