Small Business Program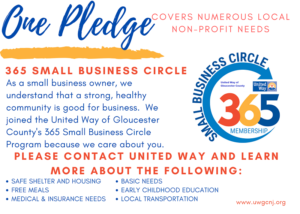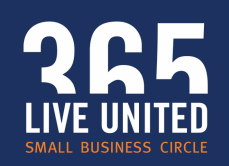 For only a dollar a day, or $365 a year, your business becomes a member of the LIVE UNITED 365 Small Business Circle. United Way of Gloucester County (UWGC) has created an easy, affordable, and effective way for companies with fewer than 35 employees to give back to their community. Being a 365 Small Business Circle member aligns your business with the strong LIVE UNITED brand, recognized as one of the Top 10 most recognizable nonprofit brands in the world. You will receive an exclusive LIVE UNITED 365 Small Business Circle decal to display and show your customers your commitment to the community, plus you'll receive many other member benefits. Use your Google account to sign up for this important program electronically!

To learn more about the 365 Small Business Circle, please contact Donna Murphy at 856-845-4303 ext. 1 or donnamurphy@uwgcnj.org
Riggs Creative Group is proud to support our Gloucester County neighbors in need by being a 365 Small Business Circle member, and by offering 10% off the cost of your creative services (up to $100 value) to all those who participate in the employee giving program. Especially during times of uncertainty, every contribution matters and the United Way ensures the funds you give go to solve pressing needs in our community.
The 2021 Live United Mini-Grants have now been awarded!
The United Way of Gloucester County is pleased to announce that 16 local nonprofits will receive funding from the Live United Mini-Grant Program. These grants will go toward programs that provide services to Gloucester County residents. Funds were generated by the members of the Live United 365 Small Business Circle, an initiative for small businesses to give back to the community. In addition to the 16 Live United Mini-Grant recipients, Rutgers Cooperative Extension of Gloucester County, Family and Community Health Services was awarded an Innovation Grant for their Cooking Matters at Home program.
The investment made to UWGC by our 365 Small Business Circle Participants provides funding for a number of Mini-Grants of up to $1,500 each for programs and agencies to conduct life-changing work in Gloucester County.
To learn more about the United Way of Gloucester County or to donate, please visit uwgcnj.org. For more information about the Live United Mini-Grant Program, contact Michael Gower, Executive Director, at 856-845-4303 ext. 3 or 4 or email at mgower@uwgcnj.org.
The following organizations received Mini-Grants for Year 2021:
Booksmiles – promotes literacy by giving new or gently used books to children to lay the foundation for academic success. Funds provided will be used to purchase books that feature characters of diversity as well as books that are Spanish bilingual.
Boys & Girls Club of Gloucester County – funds provided will support the Power Hour homework and tutoring program, and Project Learn, a multi-dimensional learning program that includes a variety of educational initiatives.
Clarifi Consumer Counseling Services of Delaware Valley – offers financial counseling to those of low to moderate income. This funding will provide 10 one-on-one financial counseling sessions to residents of Gloucester County.
Emmanuel Cancer Center – provides emotional support to families battling pediatric cancer, ensuring they have safe shelter, gas for their car, and food. This funding will provide supermarket gift cards and gas cards, as well as stock the pantry shelves with groceries for the ECC's nutrition program.
Greater Woodbury Cooperative Ministries, Inc. – this funding will purchase fresh meat products to distribute to Gloucester County residents in need of food assistance.
The Lighthouse Community Center – provides job and life skills training, education and mentoring to those in need in Gloucester County. These funds will be used to support the Community Meals Distribution program by purchasing a new commercial refrigerator and chest freezer, so that we may store food with which to provide hot meals to those who would otherwise go without.
Newfield Terrace Community Action Organization – the Newfield Terrace Community Action Organization's Youth Enrichment program is a weekly after school enrichment program that serves about 15 youth in Franklin Township, offering them the chance to participate and engage in community services projects, social emotional workshops, and art expression. This funding will expand their art expression offerings to include yoga and dance programs. This program will also provide financial responsibility and career planning workshops to youth of color.
Partners in Learning – this funding will support Partners in Learning's Let's Keep Moving program. This program offers a variety of studies such as exercise, gardening and literacy to young children with autism spectrum disorders.
People for People Foundation of Gloucester County, Inc. – this funding will support six veterans by providing emergency assistance through their Veteran Rapid Response program, which provides help for low-to-moderate income veterans and their families quickly, ensuring their basic needs are met as soon as possible.
Renaissance Village Youth Center – prepares teenagers to be independent-thinking leaders in their communities, both socially and emotionally. This funding will purchase four sets of computer components to support approximately 25 students for the 2021-2022 school year, so that teens can learn to build their own gaming computers.
Rutgers Cooperative Extension of Gloucester County, Family and Community Services – funding will be used to support families in Gloucester County with their Cooking Matters at Home Program, which provides meal kits with fresh ingredients along with virtual cooking lessons to teach and empower families to create healthy, low-cost meals.
Shadow Equestrian, Inc. – funding will be used to purchase items that support their therapeutic riding instruction program for physically and mentally disabled children. Because of the COVID-19 pandemic, riding equipment has been affected by disinfection protocols. By replacing the reins, halters, lead lines and purchasing a new saddle, riders will have a better riding experience. In addition, a portion of the funds will be used to purchase new games that were also affected by continuous disinfection to ensure lessons are beneficial and fun.
South Jersey Dream Center – funding will provide support to South Jersey Dream Center's distribution of food, clothing, household and essential baby items to those in need. Funds will also be used to purchase much needed storage equipment to effectively organize items for distribution.
South Jersey Robotics – funding will be used to support their STEMquest Adventure summer camp program. This program provides space for K-8 students to engage in STEM activities in order to develop critical-thinking skills in a hands-on, team-building environment.
Special Events for Special Kids – Special Events for Special Kids (SE4SK) provides a safe environment for children with special needs and/or disabilities to have fun, as well as offers a supportive environment for parents and families. This funding will go toward supplies for SE4SK's Winter Festival, which features games, prizes, character appearances such as Spiderman, Elsa, and more for children with disabilities ages 3-17 to enjoy withtheir families.
Viola's Place – Viola's Place provides resources to women and their children who have suffered through domestic violence, including emotional, sexual, financial and physical abuse, to locate safe and secure housing, empowering them to become self-sufficient. This funding will support THRIVE, a six-week program that grants women access to professionals that teach self-care in order to improve their social, mental and emotional health, while also offering education on financial literacy, resume writing and interview preparation.
Volunteer Center of South Jersey – provides funding to support their Youth Workforce Development Program, which offers workforce development training, internships to build workforce skills, and employment connections to low-to-moderate income youth who seek to sustainably improve their economic standings and positively change themselves and their community.



Last Updated on: February 23rd, 2022