Volunteer Committees
Please use this Google form to choose how you would like to volunteer!
Loaned Executives for Campaign 2020
Our Loaned Executives are crucial in helping our annual campaign be the best it can be. For Campaign 2020, we are so pleased to announce that Barry and Vicki Hills will be our Loaned Executives. They will call on area businesses and organizations throughout October and November to tell them how running an employee campaign is easy, efficient, and is the main funding source for Gloucester County programs and initiatives. They're happy to help you in whatever way you need! We're grateful for their help, and we thank you for whatever you can do.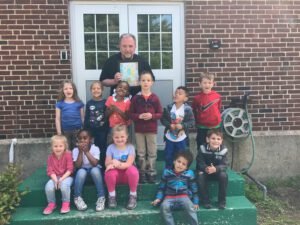 Barry Hills at Repauno Preschool Day Care Center in Gibbstown
Community Impact Cabinet
Patricia McEvoy, Chair, Community Volunteer
Marcey DiGiacomo, Community Volunteer
Judy Baillere, Community Volunteer
Richard Dann, Community Volunteer
Karl Kinkler, City of Woodbury
Robert McErlane, County of Gloucester
Lisa Carney, Aflac & Farmers Insurance
Warren Strumpfer, Community Volunteer
Fran Yearwood, Community Volunteer
Tiffany Patch, Community Volunteer
Laurie Colborn, Independence Blue Cross
Drew Turner, Coperion K-Tron
Allan Connors, Community Volunteer
Community Impact Review Panels
Judy Baillere, Community Volunteer
Jennifer Liberi-Middleton, Life Executives, LLC
Lisa Carney, Aflac & Farmers Insurance
Robert McErlane, Gloucester County
Laurie Colborn, Independence Blue Cross
Patricia McEvoy, Community Volunteer
Allan Connors, Community Volunteer
Marcey DiGiacomo, Community Volunteer
Dorie Gilchrist, Community Volunteer
Chrissi Robbins, Paulsboro Refining Company
Jessica Smith, Fulton Bank
Barry Hills, ExxonMobil
Warren Strumpfer, Community Volunteer
Vicki Hills, Glenmede Trust Company
Jim Kelleher, Edward Jones Investments
Drew Turner, Coperion K-Tron
Joe Kenney, Newfield National Bank
Robert Uberti, Rowan University
Fran Yearwood, Community Volunteer
Jill Wilson, Solvay Specialty Polymers
Tracey Leer, Inspira Medical Center, Woodbury
Marlene Loglisci, Rowan College at Glo. Co.
Karl Kinkler, City of Woodbury
Lisa Tan, Community Volunteer
Christine Moisy, Coperion
Lillian Cooper, ExxonMobil Lube Plant
Joe Cone, Republic Bank
Tiffany Patch, Community Volunteer
Lori Rak, Community Volunteer
Campaign Cabinet
Cindy Cipriani, 2020 Campaign Chair
Ben Griffith, Community Volunteer
Claire Riggs, Graphics Solutions
Cody D. Miller, Rowan College of South Jersey
Hank Muller, ExxonMobil Lube Plant
Howard S. Kroop MD, Physician
Isaiah Owens, CLM Advisors
Jason Daniel, Coperion
Jean Garozzo, County of Gloucester
Jessica Riley, AmerisourceBergen Corp.
Karen Greene, AmerisourceBergen Corp.
Karen Hill, PBF Energy
Nicole Capelli, County of Gloucester
Mid Mariani, Community Volunteer
Scott Kintzing, WSFS Bank
Tonya Fellona, Fulton Bank of NJ
Sgt. Tim Brown, Borough of Glassboro
Tracey Leer, Inspira Medical Center, Woodbury
Michelle Vallone, Newfield Bank
Nominating
Committee
Scott Kintzing, Co-Chair
Ben Griffith, Co-Chair
Greg Luczny
Tom Bianco
Sandy Uzdavinis
Event Committee
Ben Griffith
Beth Dunoff
Bill Wright
Brian Cook
Christine Moisy
Cindy Cipriani
Claira Percival
Ed Schultes
Kathy Schultes
Greg Luczny
Joe Kenney
June DeSabato
Lillian Cooper
Marianna Le Donne
Mary Schultes
Pat McEvoy
Tracey Leer
Finance Committee
Nina Sorelle, CPA, Chair
Robert Cleveland
Marcey DiGiacomo
Ben Griffith
Scott Kintzing

Last Updated on: November 3rd, 2020