Who Are We?
Mission Statement
The mission of the United Way of Gloucester County is to be the leader in building community capacity to foster individual well being.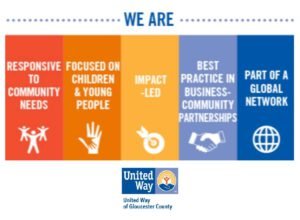 Vision
Through collaboration with the United Way, consumers and providers of health and human services in Gloucester County will be more self-sufficient.
Goals
Be the recognized leader in identifying and addressing critical community needs
Stimulate community involvement
Develop resources sufficient to meet community needs
Affect sustainable solutions
Enable self-sufficiency
Our community partner, Research 1166 Federal Credit Union
of Swedesboro, NJ, presenting a donation to Michael Gower and
Donna Murphy of United Way of Gloucester County. Thank you so
much for joining with us!
United Way Worldwide
As the nation's leading community solutions provider, United Way invests in and activates the resources to make the greatest possible impact in communities across America. The United Way movement includes approximately 1,300 community-based United Way organizations. Each is independent, separately incorporated, and governed by local volunteers.

United Ways bring communities together to focus on the most important needs in the community – building partnerships, forging consensus and leveraging resources to make a measurable difference.

United Ways across the nation generated an estimated $4.4 billion to help America's communities address their most critical issues. The resources raised include $3.93 billion in revenue from the annual campaign and other gifts such as planned gifts, corporate sponsorships, and government grants. In addition, United Ways mobilize more than a million volunteers annually in communities nationwide.

United Ways ensure that each organization in which they invest is a non-profit, tax-exempt charity governed by volunteers and that it submits to an annual, independent financial audit, provides services at a reasonable cost, and maintains a policy of non-discrimination.

A vast network of volunteers and the simplicity of corporate payroll deduction keep administrative expenses low – averaging 13% of all funds raised at the largest United Ways. This figure compares favorably with the suggested Better Business Bureau guidelines of up to 35%.

United Way Worldwide is the national organization dedicated to leading the United Way movement in making a measurable impact in every community across America. It invests in the programs and services that strengthen the ability of local United Ways to identify and build a coalition around a set of community priorities and measure success based on community impact.

Last Updated on: November 3rd, 2020